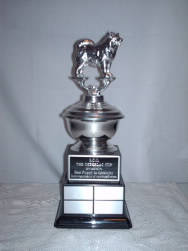 The Deberlac Cup
Awarded to Best Puppy in Samoyed Club of Ontario Specialty
In loving memory of André DesRosiers
donated by Martha Millas
To honor André DesRosiersís lifetime achievements as a handler, a breeder and a teacher.
This memorial, being perpetual, a keeper trophy will be presented to the winner.
André DesRosiers ( 1933-2008)
He will be missed
André DesRosiers passed away on November 20th, 2008. André was one of the most successful handlers of his time and played a major part in the dog world. 54 years of experience in the Dog Show World, André was the first french Canadian handler to travel across Canada & the States. He inaugurated handling classes in the province of Quebec, gave seminars on "The dog Show World", judged over 200 Sanction Matches, Sweepstakes,
Junior Showmanships. André has oriented and trained 95% of Quebec's show handlers.
His performances echoed long after is retirement ;
More than 600 group placements
Handling and obedience teacher
Experienced breeder in a variety of breeds: German Shepherd, Beagle, and Samoyed
President of the German Shepherd Club of Quebec from 1965-1967
Judging experience: Group 1-2-3-4-6-7
Coordinated obedience classes ( started in early 1960)
Coordinated handling & Junior handling classes
Managed his own handling school, gave handling lessons for beginners and advanced classes
Gave seminars on conformation, anatomy and puppy evaluation
We will miss his knowledge, his wit, and his company.















Thank you to Marthe Millas for contributing these photos of Andre as an exhibitor and judge




Winners of The Deberlac Cup

l

2009 -